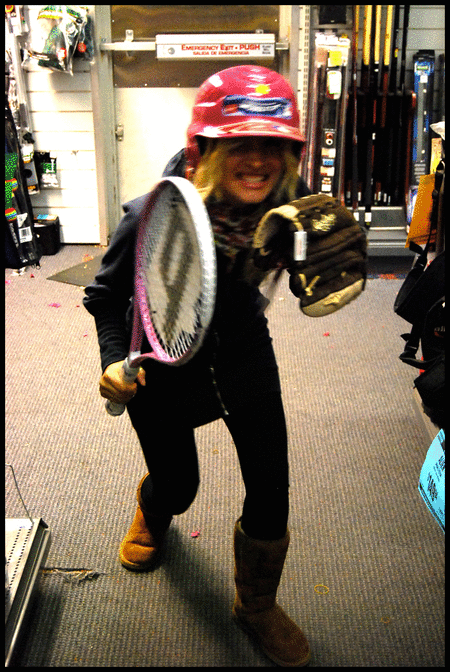 joey and i went to Big 5 …and acted like dumb dumbs. did you know they have a gun section there!? scarrry! anyway, i digress, i am soooo not sporty, but i am active and working out and being physically fit is a big part of my life. i decided to do an exercise post about my exercise regimen and favorite workout DVDs. oh, i also want to thank everyone for your comments on my previous "nostalgia" post, i love reading them!
i try to workout 5 to 6 days per week. i've definitely run the gamut with fitness. i've had trainers, gone to gyms, done classes, swimming, spinning, hiking, pilates, etc. etc! right now i don't have a trainer and i am not a member of a gym. it's for money reasons but also because i have a nice schedule that i've set up for myself with, you guessed it, workout DVDs! i remember when my mom used to do Jane Fonda tapes in our living room, ha, she had some mean leotards. i am by no means an expert, i just know what i like now and what works for my body. i like to eat and can't ever stay hungry or seriously diet, so i know i need to workout to stay feeling good in my own skin.
cardio: i went to a trainer once who really changed the way i viewed cardio. i used to think that you needed to do an hour of cardio as often as you could to lose weight blah blah. but this trainer told me that i only had to do 10 minutes of intense cardio 4 or 5  days per week! he said that if i could get my heart rate up to the max for 10 minutes and be toasted afterwards, it would burn the fat i wanted but not build big leg muscles in the process. i try to do that now, i have a stair-climber in one room in our place. stair climbers are great, because unlike running and biking, they don't bulk up your quads and instead work your hamstrings and butts!
strength/toning: i don't really lift weights. i think as a female (who builds muscle easily) it's not necessary because i don't want to bulk up, i want to tone up! i don't lift heavier than 3 pound weights and i usually just follow the exercises from the different DVDs.
i try to do something active 6 days per week. i try to do it in the morning, because i have more energy, and i try to really push myself 4 of the 6 days. i try to listen to my body and adjust what dvd to do according to how i feel, like if i'm tight, i'll do one of the slower-paced dvds with stretching, etc. and i mix in the stair-climber about 4 days per week to get my cardio in…so, here are my fave DVDs…
Cardio Barre: my all time favorites! these dvds are what got me started on my dvd love affair. i used to take the classes at the Cardio Barre studio, but it was too far away, so now i just do these! you don't need to know ballet, nor do you need a barre, just the back of a chair. it's a great all-over workout. you will sweat and tone. there are two different dvds, one with 3 levels and then one with one mega advanced workout. get them both!
The Bar Method: a much slower-paced workout than Cardio Barre but really great for isometric toning. you will really feel this the next day, but you won't really sweat and get the cardio at all. it's great paired with a short burst cardio workout.
Jillian Michaels: yes, she's the Biggest Loser trainer. my friend Ali told me about the 30 Day Shred dvd, which is really great if you only have 20 minutes to work out. i love this dvd because in a short period of time you get cardio, strength and core work. the Banish Fat Boost Metabolism dvd is so hard! it kicks my butt, and joey's too! it's a 40 minute workout of cardio exercises that totally make you sweat and you don't need any equipment.
Core Strength Vinyasa: my favorite yoga dvd. i don't love to do yoga every day because it makes my neck and wrists sore and builds my shoulders too much. buuut, yoga is great for flexibility, strength and relaxation. this is my favorite power yoga dvd, it's a great pace and you sweat and feel amazing afterwards.
The Tracy Anderson Method: she is Gweneth Paltrow and Madonna's trainer and she's interesting. a little botoxed and collagened up but her method is great. kind of pilates, kind of dance inspired. she has great arm toning and butt toning exercises. that being said, i don't like her Dance Cardio workout dvd, it's too hard if you're not a dancer, it's too much technique and not enough sweat! so get the Mat Workout one. check out a Tracy Anderson arm workout video that Gweneth posted on her blog Goop.
A.M. & P.M Stretch: i don't really do this dvd (joey does), because i'm pretty flexible and if i'm going to do something i want to sweat. buut, if you want a pure stretch dvd to increase flexibility and relax you in the evening or energize you in the morning, this is quick and thorough. i like how in the evening one she has you massage your own feet!
that's it for now. i'll do an update again if i change my mind or find something new i like. what do you do for exercise? what dvds do you like?